End of Term News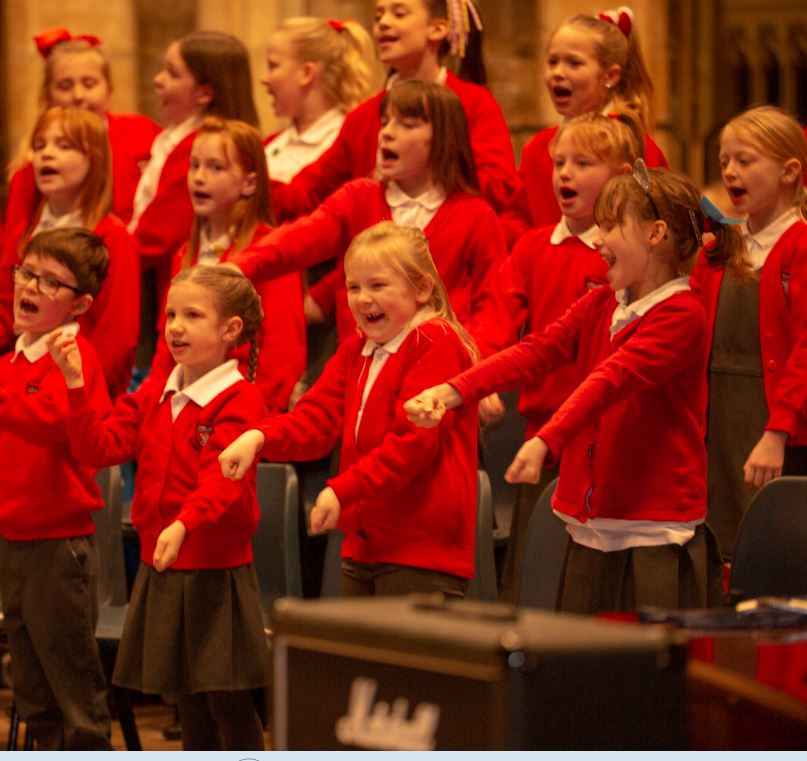 As we look towards the end of term our children have been and continue to be incredibly busy!
The school PTA Christmas Fayre was a fantastic event, thank you so much to everyone who helped to organise this event and to those of you who attended – I don't think that we could have fitted any more people into school!
Performance means a lot to us here and we were totally blown away by our Year 3's performances in their uplifting and delightful play 'What Does Christmas Mean to You?' last week and look forward to Year 4's post-Christmas pantomime in January. We have really enjoyed taking our choirs to the Nettleham Festive Market and the Lincolnshire Police Carol service at Lincoln Cathedral; our final musical trip out will be with our Year 6s when we entertain Nettleham's Buddies Dementia Café on Tuesday 18th December.
We would like to thank you so much for your support with many charity events over the past month including Children in Need, Save the Children and the Foodbank (we will continue collecting items for this right until the end of term).
Children's Christmas Party Day is on Wednesday 19th December. Alongside the usual food and games we have the theatre company Pals Productions returning to school to present their version of 'Sleeping Beauty', kindly funded by the PTA. You should have received a note with regard to party food that needs to be provided by each child. Also children can come to school in their 'party' clothes on that day, packed lunches are not needed for party day and there will be no hot school meals as we have a 'shared' lunch from contributions. If any of you had already paid for a meal on this day you will have already received a refund for this.
You may wish to visit Nettleham All Saints Church through the Christmas period for one of their services or simply to look at the tree which will be decorated by our Year 6 children as part of our simple Christmon Service in church at 11am on Thursday 20th December.
Please note that school closes at 3pm on Thursday 20th December and reopens for the New Year on Monday 7th January 2019.
Wishing you all a very Merry Christmas and a Joyful New Year.
David Gibbons
Headteacher
2019

Nettleham C of E Aided Junior School – Term Dates and Bank Holidays

TERM 3

Monday, 7th January, 2019 to Friday, 15th February

TERM 4

Monday, 25th February, 2019 to Friday, 5th April

TERM 5

Tuesday, 23rd April, 2019 to Friday, 24th May

TERM 6

Monday, 3rd June, 2019 to Friday, 19th July

Bank Holidays

Friday, 19th April & Monday, 22nd April 2019

Monday, 6th and Monday, 27th May, 2019
Key Dates for 2019
Friday 4th January – Training Day
Monday 7th January – Children return for the spring term
Tuesday 15th January – Sports Hall Athletics Team out pm
Wednesday 16th January – Year 4 Roman Day
Tuesday 22nd January – Animals UK working with Y6
Tuesday 22nd January – Height and weight measurement for Year 6
Wednesday, 23rd January – 3TS – Lincolnshire Showground – Farmhouse Breakfast Event
Thursday, 24th January – 3B – Lincolnshire Showground – Farmhouse Breakfast Event
Thursday 24th January - Travelling book fair in school
Week beginning 28th January – Year 6 Bikewise Training
Thursday 31st January – Year 4 pantomime to parents – 2pm
Friday 1st February – Year 4 Indian Experience Day
February 4th – February 8th – SEN Week
Tuesday 5th February 2019 – Y3 to Flag Fen
Friday 1st March – PTA Disco – 6pm
Wednesday 6th March – PE Gifted and Talented Day at Lincoln University
Monday 11th March – Y6 to Durham Oriental Museum
Tuesday March 12th – Parents' Evening - TBC
Wednesday March 13th – Parents' Evening - TBC
Thursday 14th March 2019 – Y3 to Lincoln Cathedral
May 13th – 17th - SAT week for Year 6
Tuesday 21st May – Y6 to Church Schools Festival
June 10th - 14th – SEN Week
Monday 10th June – Class and group photographs pm
Tuesday 11th June – Book Fair– Scholastic
Tuesday 11th June – Y3/4 City Athletics Tournament at LSST 4pm
Wednesday 12th June – Y5/6 City Athletics Tournament at LSST 4pm
Friday June 14th – PTA Summer Fayre – 6pm – 8pm
June 17th – 21st June – Kinsgwood visit for Year 6
Tuesday 18th June – Year 3 to Gibraltar point
Wednesday 19th June – PE Gifted and Talented Day at Lincoln University
Thursday 20th June – Year 3 / 4 Mini Olympics at Grantham
Monday 24th June – Y5 Cinematheque group in London
Wednesday June 26th – Sports Day
Friday 28th June – Y6 Online safety workshops
Tuesday July 2nd and Wednesday July 3rd William Farr tutor day/move up day
Tuesday July 2nd – Y2s to visit for morning and spend time in classes
Tuesday July 16th – Leavers' Service 2pm
Wednesday July 17th – Leavers' Treat Day
Friday 19th July – Last Day of Term