News from School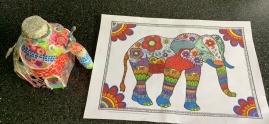 We hope that you and your families are well and have managed to catch up and connect with those that you love over the past week in some way.
Reflecting on the challenges of this unique period of time we are drawn back to our school values. It amazes us how apt they are in the light of the current crisis and also how they are lived each day throughout our whole school community.
KOINONIA (we are one big family)
FRIENDSHIP (we are always there for each other)
ENDURANCE (we keep on going even when it is tough)
TRUST (we put our trust in God and in each other)
HUMILTY (we celebrate each other's achievements)
THANKFULNESS (we appreciate the many things we have)
We will keep these values at the heart of what we do over the coming weeks and plan for the next steps for our school and our pupils.
You will be aware that the Government have indicated that they would like to see school begin to admit pupils, initially in Year 6, from June 1st. Obviously there are many factors to consider to ensure that school is safe for everyone who is there, pupils and staff, and we are looking at each element very carefully and not rushing into a decision about exactly what this new school provision will look like. Thank you to all of our Year 6 families who have responded to our communication last week with regard to this – please do get in touch if you haven't already done so; we really do need to know your thoughts on this.
Whatever happens our 'Distance Learning' will continue for the majority of children and we will continue to develop and refine this in the light of your feedback. Here is everything that you need for the week commencing 18th May 2020. Do keep in contact with us through email and let us see the amazing things that your families have been doing during this difficult time.
http://www.nettleham-junior.lincs.sch.uk/news/?pid=3&nid=1&storyid=225
During the coming week we will continue a full 'catch-up' round of phone calls. As before the phone calls will either have the school number or a 'No Caller ID'. We look forward to talking to you.
Our staff have been busy developing video elements to the resources that we offer for home learning and there is something for everyone. Some examples are:
Mrs Hollamby's Thursday Assemblies
Miss Clarke's Virtual Samba Lessons
Spend some time having a look with your children, we are missing them all greatly and it is another lovely way to stay in touch.
With very best wishes
David Gibbons
Headteacher