It's The Summer Term!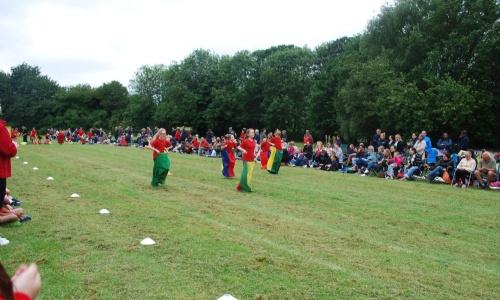 We are looking forward to our return to school and to the last six and a half weeks of what has been a very interesting, challenging and unique year. What has remained constant is how amazing the children have been throughout this time - they really are brilliant!
Until we are absolutely clear about the next steps in the government's 'roadmap' we will continue with our current risk assessment, so start/ finish times remain staggered and children remain in their class 'bubbles'. We do plan for some school trips to go ahead and also to have a sports day, we'll keep positive about these bearing in mind that events beyond our control may affect them.
Here are the key dates for the coming term:
TERM 6 Monday, 7th June to Wednesday, 21st July
Monday 7th June – Wrates photographers (class groups, individuals) – from 9am (this will all take part during the school day - unfortunately we won't be able to offer the opportunity for photographs with family members not at our school this year)
Wednesday 9th June – Mr Dinnie (Priory LSST assistant head) to visit y6 who will be moving on to Priory LSST
Thursday 10th June – Kingswood parents' meeting – 6-7pm – Teams link to be emailed to parents and carers on Monday 7th June
Friday 11th June – Mr Clarke (new Head of y7 at William Farr) to visit y6 pupils who will be moving on to William Farr
Thursday 17th June – Governing Body committee meetings – 6-9pm
Friday 18th June – Mrs Blackbourn (William Farr SEN transition) visit
Monday 21st June – Y3 to visit Gibraltar Point
w/c Monday 28th June – SEN Review Week
Monday 28th June – LCHS transition day – all day
Monday 28th June – Lincoln Castle Academy transition day – all day
Tuesday 29th June – Lincoln Castle Academy transition day – all day
Friday 2nd July – Foodbank Friday
w/c 5th July – Kingswood trip for Year 6
Tuesday 6th July – William Farr Year 6 transition day – all day – for those not at Kingswood
Wednesday 7th July – William Farr Year 6 transition day – all day – for those not at Kingswood
Thursday 8th July – Priory Pembroke Year 6 transition day – all day – for those not at Kingswood
Thursday 8th July – Full Governing Body meeting – 7pm
Friday 9th July – Pembroke Year 6 transition day – all day – for those not at Kingswood
Monday 12th July – QEGS Y6 transition day – all day
Monday 12th July – Premier Education – Tokyo Trail – all day
Monday 12th July – Rhubarb Theatre performances on the school field pm
Tuesday 13th July – move-up morning – am – Children to spend time in their new classes
Tuesday 13th July – y6 to William Farr School – extended afternoon visit
Wednesday 14th July – Sports Day – pm
Monday 19th July – Premier Education – Tokyo Trail – all day
With very best wishes
David Gibbons